The Perrachon Wines: Six Crus in Beaujolais
Our Domaine is recognized by the Revue du Vin de France
We are very proud to announce that the reference magazine "La Revue du Vin de France" gave us its top accolade in the special issue reviewing the 2016 vintage.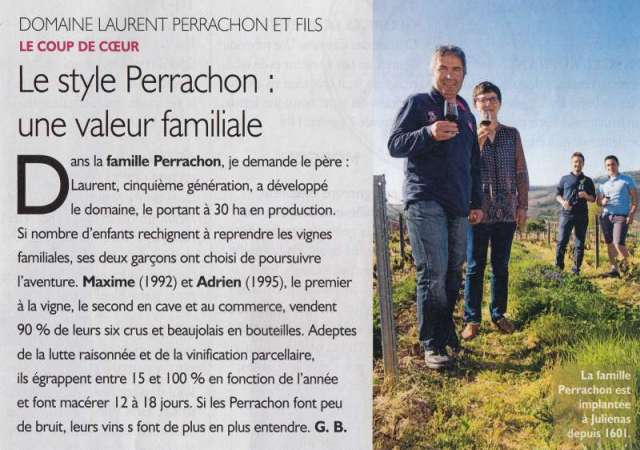 The Domain Laurent Perrachon and Sons
We are the fifth (Martine and Laurent) and sixth (Maxime and Adrien) generation of Perrachon, on the La Bottièr eEstate since 1877. The earliest traces of the family in the wine trade date 1601.
Welcome to the Perrachon domain.  We pursue the work of our ancestors producing wines the traditional way. Julienas history already mentionned the PERRACHON name in 1601.  The Perrachon family acquired the domain of la Bottière, in Juliénas, in 1877. Then came the Domaine des Perelles on the Romanèche-Thorins territory, at the feet of the Moulin-à-Vent hills. The Domaine des Mouilles, now the heart of our operations, was acquired in 1989. It is the heart of the Julienas appellation, benefiting from the best exposure and the best soils. Recently, we added smaller parcels in Chénas, Fleurie, and Saint Amour.
Today we harvest grapes on six appellations: Julienas of course, but also Morgon, Moulin-à-Vent, Fleurie, Chenas and our latest addition, Saint-Amour. This makes us the independant winemaker in Beaujolais with the most comprehensive list of crus. 
We have many projects to continue our mission, articulated around 2 axes
Restructuration of the estate. Within 15 years, we want to be able to eliminate all chemical products and work all of our soils mechanically.
Enthusiastic about our terroirs, we want our crus and grands crus to be recogniezd (Les Chers or Les Mouilles in Juliénas for instance). This initiative translates into our new parcellar cuvees.
We export to Europe and North America. Our customers worldwide, private connoisseurs or chefs, appreciate our wines for their reliable, traditional quality, year after year.  Our wines are regularly recognized by famous wine reviewers.  On this site, you will discover our vineyard, our wines, our philosophy.  Don't hesitate to come and pay us a visit.
Martine et Laurent