Beaujolais-Villages Nouveau from Laurent Perrachon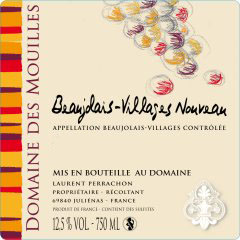 Every year we produce some Beaujolais Villages "Nouveau". This wine often belittled is appreciated by our clients and friends. We apply all the care necessary to give it a personality that is sometimes lacking with the high volume Beaujolais nouveaux you find in retail stores.
General Features
AOC, Cru du Beaujolais
Varietal: Gamay
Pruned short in Gobelet
Average age of the vines: 45 years
Surface : 3 ha
Production in bottles: 8 000
Soil type: crystalline
Tasting
Wine lovers throughout the world recognise the wines for their light red, red-currant or cherry-red colour and their typical fruity, fresh, floral aromas and flavour. Serve at 10°C, perfect for all occasions.
Winemaker's notes
Manual picking, complete grapes
Pneumatic press
Semi carbonic maceration for 4 days
Tthe juice is kept in stainless steel vats
Estate bottled