Juliénas l'Irrésistible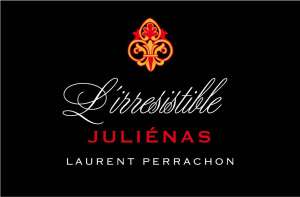 From a careful selection of our best grapes on the best terroirs of Beaujolais, the Irrésistible is produced in very limited amount: 1333 bottles only, all individually numbered.
With its traditional wine making, it shows a smooth, velvety expression that will attract the most demanding Julienas amateurs
General Features
AOC, Cru du Beaujolais
Varietal Gamay pruned short in gobelet
Average age of the vines: 80 years
Surface : 0,2 ha
Production in bottles : 1333
Yield : maximum 35 hl
Soil type : schist, granite and clay
Tasting Notes
Its purple hue is dark and superb. Its very expressive nose hints of ripened dark berries. Round, powerful, concentrated, smooth tannins. A remarquable harmony. A wine of character to appreciate with a delicate meat like a farm raised limousin veal sauté.
Winemaker's Notes
Manual picking, fully egrapped, no stems
Pneumatic press
Semi carbonic maceration for 16 to 18 days
Raised for 12 months demis muids (500 liter barrels).
Estate bottled then further ageing in our 17th century cellar
Minimum 5 years before drinking but will age 12 years or more when stored in proper conditions