Juliénas Vignes Centenaires - Cuvée Spéciale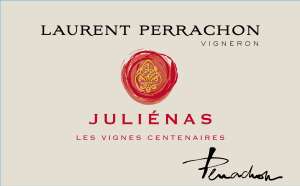 This cuvee is vinified from grapes selected on century old vines, on the hills above "La Bottière".
It is an outstanding wine. Our 2010 has one start in the guide Hachette 2013 ! It has received numerous other awards.
This wine will easily age 10 years or more.
It is also available in "Magnum"
General Features
AOC, Cru du Beaujolais
Varietal Gamay pruned short in gobelet
Average age of the vines: 100 years
Surface : 0.85 ha
Production in bottles : limited quantities
Yield : maximum 35 hl
Soil type : schist, granite and clay
Tasting Notes
This Julienas is powerful, sinewy and intensely coloured, with complex wood scents, and spice aromas. Serve at 13° to 15°c, with meats in rich sauce, or strong cheeses.
Winemaker's Notes
Manual picking, 1/3 whole bunch, 2/3 .
Pneumatic press.
Semi carbonic maceration for 14 to 16 days.
Raised for 12 months in oak barrels and 3 more months in large oak vats.
Estate bottled then further aged in our 17th century cellar.
Can be drunk after 4 to 5 years but will age 10 years or more when stored in proper condition.