Morgon Côte du Py - Cuvée Spéciale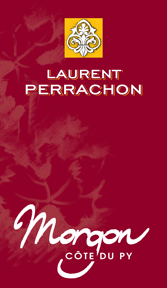 The best parcel in Morgon, at the footsteps of the Côte du Py hill. The grapes harvested here are very representative of the best this appellation can offer. The grapes are harvested on a 42 acres parcel with a very pebbly soil, schistous, iron oxide rich, typical of this appellation. It gives a bright purple-hued wine that we mature in oak barrels. Its typical aromas of kirsh with peppery notes are well blended with animal notes.
During fermentation, we allow the wine to macerate 12 to 14 days to extract all its potential. Then the wine is matured in oak barrels for 12 months.
Ideal for rich meals, with complex flavors, like duck with peaches.
General Features
AOC, Cru du Beaujolais
Varietal Gamay pruned short in gobelet
Average age of the vines: 50 years
Surface : 0.42 ha
Production in bottles : limited quantities
Yield : maximum 35 hl
Soil type : schist, rich in iron oxides
Tasting Notes
The best of Morgon. Intense color, ambitious, long lasting aromas. Hints of kirsch, peppery notes, ideal for rich meals with complex flavors like duck with peaches, and game.
Winemaker's Notes
Manual picking, complete grapes
Pneumatic press
Semi carbonic maceration for 12 to 14 days
Raised in oak barrels for about 12 months plus 3 months in large oak vats.
Estate bottled then further aged in our 17th century cellar
Can be drunk after 4 to 5 years or more